1 On 1 Soccer game series have succeeded to become one of the most popular game between flash games. As you all know from Sports Heads game series, this game is also like similar with them. Of course there are some differences between these two series; on Sports Heads, you only play with big headed sports-mans but on 1 On 1 Soccer game, the character's of game is like human. We can say that it is more real but we can not discuss about these two game series's popularity between flash games. These two series consist of superb flash games. Both series are awesome. You can find them by making a search from search box on our web site.
And now, here is a great news that you will like so much; we present you these cheats because the game becomes more entertaining for 1 On 1 Soccer Brazil game. You can only use these codes in 1 On 1 Soccer Brazil. Click on "CHEATS" button on main menu and write in the blank one of these codes that you want to use, then click "OK" button to activate it. Each code unlocks something in game or effects game in a different way.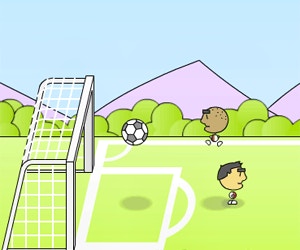 GIANTSTEPS: It unlocks "The Moon" in Quick Game mode.
SAHARA: It unlocks "The Desert" in Quick Game mode.
OURHOUSE: It unlocks "The House" in Quick Game mode.
COLDASICE: It unlocks "Antartica" in Quick Game mode.
LETITBLEED: "The Rolling Stones" unlocked.
SGTPEPPERS: "The Beatles" unlocked.
BENDIT: It unlocks "Beckham".
HANDOFGOD: It unlocks "Maradona".
UNMOMENTODADO: It unlocks "Cruyff".
EDISON: It unlocks "Pelé".
CARREMAGIQUE: It unlocks "Platini".
NINETYNINE: Balloon has been replaced for ball.
LIMEINTHE: Coconut has been replaced for ball.
NOGRAVITY: Gravity of ball is disabled.
TIMEFLIES: Slow motion activated.
BRAINDAMAGE: Length of time to recover after a head knock increased.
For more cheats, keep playing on twoplayergames.org!