1 On 1 Soccer game is a rare game which works with cheat codes - if necessary - between flash games. And as you guess, these codes make this game more entertaining. This game has another important point which is this game played as two player and it makes difference from other sport games. You can have more fun with your buddy when you play this game as twosome. We found this entertaining game's cheats for you, and we edit them for you. You can make your game more entertaining by using these codes.
How to use these cheats?
On main menu, you will see "CHEATS" button. Click on it and write these codes in the blank and press "ENTER" key to activate it. While you are writing the cheats, take notice of case sensitive.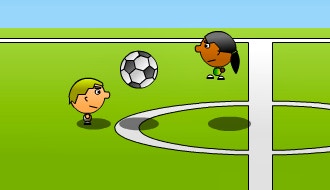 It unlocks The Beatles team: "thEbeAtleS"
It unlocks The Rolling Stones Team: "thERStoNes"
Wall: "floSATball"
The players of match fly: "flyiSgmoDE"
In place of ball, you play with bowling ball: "bOwliSbaLl"
In place of ball, you play with tennis ball:"teNniSbaLl"
In place of ball, you play with beach ball: "beSaChbAll"
The gravity of players decrease: "loWgraSiTy"
Your player becomes the same of our opponent in every match: "AllSowsAme"
Permanent speed boos: "SpeEdItuPp"
For more flash game cheats, keep playing on twoplayergames.org!